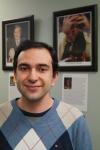 Alfred Pechisker
Coach's biography
I am a National Chess Master with a CFC rating of over 2200 and regularly play in the BC Closed Championship.
I have been playing chess since I was five years old. At first, I learned from my father, but then I moved on to the Botvinik chess school in Kiev, Ukraine. By the time I moved to Vancouver, Canada, when I was nine years old, I was playing at about 1600 level. Throughout my childhood, I competed in all the major scholastic tournaments in Canada. I won the BC championship for my grade six times and the BC Junior Championship twice. I represented BC at the National Scholastic Championships, the Canadian Junior Championship, and the BC Washington Match. I won the Canadian Championship for my grade once, finished second twice and third twice.
I have been teaching chess, on and off, over the past 18 years. I have taught in community centers, schools, chess camps, and privately.