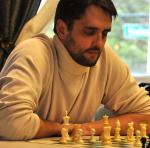 Pavel Trochtchanovitch
Coach's biography
Chess Career.
Started to play competitive chess at the age of 9 at Chess & Checkers School No.1 in Bryansk, Russia.
For several years used to be in the top 10 juniors of Bryanks region, and performed for regional junior team in many tournaments across USSR.
After entering high-school took a long (14 years) break in chess.
Started to play again in Canada in 2005. The highest recent achievements are:
1st place in Rod Planas Memorial, Kelowna, 2006.
1st place in Thanksgiving Open, Vancouver, 2009
1st place in Vancouver Express Chigorin Club Championship, Vancouver, 2013
Tired for 1st with Bindi Cheng and Lucas Davies in Vancouver January Open, Vancouver, 2008
Teaching Career.
Started teaching at age of 16 as an instructor at kids' summer camp.
While at University, worked for 3 years as a teacher for "Advanced Math and Physics" at MIPT correspondence school (10-12 graders); and for 1 year as an instructor for "Fundamentals of Electronics" at Phystech Lyceum (Moscow, Russia) for 7-graders.
In Canada volunteered as a community coach assistant for Richmond Girl's Soccer for 3 years.
Started to coach chess in Canada as a volunteer at Vancouver Public Library Kids Chess Club in 2006.
Since then had been giving chess classes both privately and in schools.
Had a privilege to work with many wonderful and talented young students including (for couple lessons) Janak Awatramani (2006), and Harmony Zhu (2010-2011).
Education: Ph.D. in Applied Physics and Mathematics received from Moscow Institute of Physics and Technology. Main research was done in Optical Holography, and Digital Signal Processing.
Occupation: Electronics Lab Supervisor, Faculty of Physics and Astronomy, UBC
Current interests: chess, music, Arts (Fine & Martial), science.