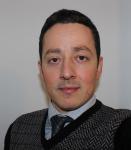 Slaven Mandic
Coach's biography
Slaven has been playing chess since 1993. During his junior years, Slaven mostly played in Bosnia. He was tied for the 1st place in the 1996 High-school Championship in city Mostar. After that he won the closed tournament of the top 8 payers and became a top junior in the city and gained a privilege to play Junior board for HSK Zrinjski Mostar (the winners of Herceg-Bosnia Club Championship).
Right before moving to Canada in December of 1997, Slaven finished 3rd in the Herceg-Bosna Junior Championship. In Canada, Slaven was only eligible to play as a junior in in early 1998 where he won one tournament with 5/5 and the other one he was the second place.
During his chess career in Canada, Slaven has played many tournaments, including Keres Memorials, a BC Closed Championship, a Canadian Open, Lower Mainland Chess Club Championships, and other active and blitz tournaments.
Team captain and organizer for Vancouver Team
Lower Mainland Chess Club Championship 2002-2003
Lower Mainland Chess Club Championship 2003-2004
Lower Mainland Chess Club Championship 2004-2005
Lower Mainland Chess Club Championship 2006-2007